GR SECURITY
Posted on 06/04/2018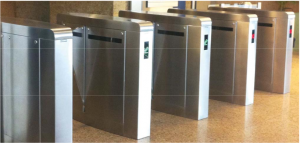 General Description
The retractable flap Bather controls pedestrian access between public and secure areas. The barrier lane uses an array of opti¬cal sensors to determine the number and direction of persons passing through the lane. The barrier uses a retractable flap to block the pedestrian's path_ The barrier is able to authorize passage to persons presenting a valid electronic security card (or other authentication device). The barrier can integrate with the building access control system
Detection sensors
The barrier uses 6 sensors transmitter and receiver type. The sensors are positioned at two different heights to defend against people trying to roll/crawl through the lane without being detected. The sensors are positioned at approximately knee height and waist height. The barrier uses 4 photo sensors to prevent barrier closure on a person while inside the lane.
Controller
An industrial computer (PLC) is used. This allows flexibility for software upgrades or adjustable timers.Operation modes
The barrier provides bi-directional access control. Each direction may be in one of three states:-
• Free passage: all person are authorized to pass under all conditions
• Controlled access: each person must use a card reader before being authorized to pass Lane closed: no persons are authorized to pass, and security cards are ignored
Configuration
It is possible to control the barrier (set free passage/ card access/ lane closed mode, clear alarms, manually authorize access for a single person) by all of the following methods:-
• From the access control system
• From a desktop-mounted control panel

Control console:
The barrier may be controlled remotely from a control console; this would typically be wired to a pushbutton at the guard desk to allow a site visitor to enter without a badge and without generating an alarm_ When the input contact is closed momentarily, then released, the barrier will open the lane for a single person to pass in one direction without presenting a badge, and will wait for many seconds (configurable by the similar) for the person to actually walk through; while the contact is held, the lane will act as if it were in free passage mode — any number of persons shall be allowed to pass.
Alarms:
The barrier provides alarms for the following:-
• Intrusion — A person is detected in the lane without a valid card
• Opposite direction — When the barrier opens, a person enters illegally from the wrong direction
Fire alarm:
When the fire alarm input is triggered, the barrier will open automatically. The barrier will release for manually push to open if the power is lost.
Orientation pictograms:
The barrier has LED orientation displays. The lights shall appear on the right-hand side of each lane in each direction. The dis¬plays are clearly visible by a person approaching the barrier.
• Green shall mean unit ready to accept user card
• Red dmil mean that the lane is closed/ disabled
SWING DOORS
PG 7 SWING DOORS DESIGNED TO ENSURED DISSUASIVE ACCESS CONTROL IN ONE OR BOTH DIRECTION COMBINING SECURITY, SPEED, USER SAFETY AND RELI-ABILITY.
General Description
PG 7 Swing doors controls pedestrian access between public andsecure areas. It's able to authorize passage to personspresenting a valid electronic security card (or other authen
tication device). PG7 can integrate with the building accesscontrol system.
Physical description
PG7 has a slim stainless steel housing made from grade 304 stainless steel hairline finish with transparent glass for bothhousing
Detection sensors
PG7 is equipped with several sets of security sensors on each side of the door wing to detect tailgating attempts anddetect intruders from the opposite side. If an obstruction is detected during opening, the door wing will stop its move-ment and slowly close, preventing the user from being clamped between door and unit.Operation modes
PG 7 provides bi-directional access control. Each direction may be in one of three states:-
Free passage: all person are authorized to pass under all conditions
Controlled access: each person must use a card reader before being authorized to pass
Lane closed: no persons are authorized to pass, and security cards are ignored
Fire alarm:
When the fire alarm input is triggered, PG7 Swing Doors will open automatically. PG7 Swing Doors will release for
manually push to open if the power is lost.
SWING DOORS